Insightful, inspirational, and award-winning, JRNY Travel Magazine is a must-have for those who love to explore the world. Striking the perfect combination between joyous journalism and fantastic photography, JRNY Travel Magazine is an ultra-premium coffee table style bookazine published three times a year. Each issue features some of the world's best travel writers and photographers and is packed with inspirational travel features and photo essays from around the globe.
The magazine was launched during the pandemic and its rise in UK travel publishing has been meteoric. After just one issue, the magazine won Travel Magazine of the Year in the UK. It has since won several more awards and has been shortlisted for many more.
From unforgettable wildlife encounters and informative city guides to exotic adventures in remote destinations and unique cultural experiences, every issue of JRNY will have you reaching for your passport.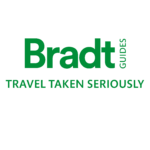 Founded in 1974, Bradt Guides is a leading publisher of travel guides, with a particular focus on wildlife, sustainable travel, and unusual destinations overlooked by other guidebook series. Bradt Guides are comprehensive, informative and well-written – aimed at those who take their travel seriously. Still proudly independent, the company has stayed true to its roots this year, publishing new guides to Gascony & the Pyrenees, forthcoming Solar Eclipses around the world, Karakalpakstan, and Saudi Arabia.
Bradt also publishes a list of activity guides to the UK (for example, Dog-Friendly Weekends, Heritage Weekends, Paddling Britain), a series of regional Slow Travel guides, and a highly-regarded list of travel narratives.
Bradt Guides: Travel Taken Seriously

The Cotswolds are at the very heart of the country, both geographically and in terms of its qualities. From the sweeping sheep-populated wild hillsides to the verdant river valleys, the landscape echoes the diversity of this region, and that's just what Cotswold Life magazine has been doing since 1967. We live in and love the area, and this is reflected in the pages… from insightful interviews; essential town and village guides; inspiration for home and garden; health and wellbeing stories; in-depth and often astonishing heritage features; the finest Cotswold food and drink; farming and countryside issues; and news from our resident columnists, including Emma Samms, Dom Joly, Adam Henson, Sue Limb and Countess Bathurst. If you love the Cotswolds as much as we do, then Cotswold Life is all you need to ensure you get the best out of this beautiful area.